Order a Replacement Marriage Certificate UK
Scotland · Northern Ireland · England · Wales
---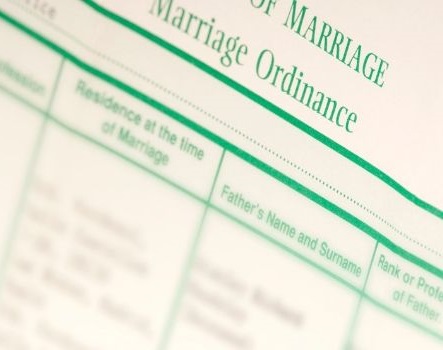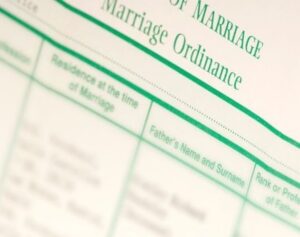 Get an Official UK Duplicate Quickly & Easily
It's never been easier to order a replacement marriage certificate in the UK. Complete our simple application within minutes then let our expert team do the rest. We'll check everything is present and correct before submitting your application, with an optional priority service if it's urgent.
Fill in the Form & Select Your Speed
Page one of the form below asks for a few basic details to get the right marriage certificate duplicate for you. On page two, you can choose the service speed to match your requirements – then let us work our magic!
Tried & Trusted for Marriage Certificate Replacement
At UK Official Certificates, we've been replacing marriage certificates for over a decade. In that time, we've provided duplicate marriage certificates for more than 300,000 people. So, it's safe to say we know the process like the back of our collective hand.
What does that mean for you? Put simply, we know what it takes to get your marriage certificate copy without delay. Our team will cross-reference your application with information from official databases, then correct any errors and fill in any blanks if needed.
How We Simplify Ordering a Marriage Certificate
If you've lost your marriage certificate, it's only natural to feel a little worried or frustrated. But it's not the end of the world. UK Official Certificates has simplified the marriage certificate replacement process for people in England, Wales, Scotland and Northern Ireland. Here's how we've made life easy for people across the UK since 2008…
No need to send any documents
You might think you need to send your ID or other documents to process your application. Think again. All we need are the relevant details in our online form, which we can cross-check with official records.
A choice of three service levels
You can choose from three service levels, depending on how soon you need your marriage certificate duplicate:
Standard £39.95 – dispatched within ten working days
Standard Plus £64.95 – dispatched within five working days
Priority Service £89.95 – sent within 1-2 working days
If you choose Priority, we'll put you at the top of our list and work as if you needed your marriage certificate copy yesterday. For other service levels, this means you're only ever paying for what you need. All are available through credit or debit card. Why pay over the odds if you've got time on your side?
The Next Steps for Marriage Certificate Duplicates
Once you order a new marriage certificate, our team will take over. Rest assured, we'll process your application as quickly as we can – and always in the agreed timeframe for your service level. We'll post the official copy of your marriage certificate with Royal Mail to ensure it gets to your promptly and securely.
Any issues? Simply contact our team. We can replace marriage certificate duplicates if you find any quality issues. And you can be sure of a refund if we can't fulfil your order.
Replacement Marriage Certificate FAQs
If you have any questions about our service, take a look through these FAQs. Please contact us if you would like to discuss anything further on sales@uk-birth-certificate.co.uk or 01706 826109.

• Where do I get a copy of my marriage certificate (UK)?
You can order a copy of your marriage certificate through your local registry office or online. Ordering in person may delay the process, as someone may need to contact you if anything is missing or incorrect. In contrast, ordering with an online service like UK Official Certificates can minimise the risk of any errors and delays that you might find with a general register office.
For more information, read our guide to birth, death, marriage & adoption certificate replacement in the UK.
• How many wedding certificates should I get?
You will only get one wedding certificate following your marriage. To cover yourself if you lose one, you may prefer to order multiple copies of your birth certificate. Alternatively, you might want to order more than one replacement certificate if that has already happened. Three is usually the recommended number, so you can store one with your documents, the other with your partner's and one in a shared safe place, for example.
• What is the cost of a replacement marriage certificate?
The marriage certificate replacement cost depends on how quickly you need to obtain a copy of your marriage certificate. At UK Official Certificates from a general register office, prices start from just £39.95 for the standard service (dispatched within 10 working days). Standard Plus is £64.95 (we dispatch within five working days), while Priority costs £89.95 with 1-2 working day dispatch.
• How long will my duplicate marriage certificate take?
Similar to the marriage certificate replacement cost, this depends on the service you select. With Priority, we'll dispatch your copy in 1-2 working days. For Standard and Standard Plus, that's 10 and 5 working days, respectively.
Please note, this is the date of dispatch rather than the date you receive it. We send standard orders with Royal Mail, so it could take 2-3 days to receive it after dispatch. Standard Plus orders are first-class, so it will be 1-2 days from dispatch. Our team sends Priority orders using Royal Mail Special Delivery, which also takes 1-2 days.
Because working days include Monday to Friday, we'll receive your order on Monday if you make it on Saturday or Sunday. Additionally, we have a cut-off time of 2.30pm, after which we'll class orders as received the following working day. Also keep in mind that bank holidays could affect your order.
• Is this quicker than doing it myself?
In many cases, ordering through UK Official Certificates is quicker than completing the application yourself. That's because even the smallest error or omission can result in the register office rejecting or delaying your application, when you go it alone. With our experienced team on your side, we'll spot and rectify those errors to minimise the chance of a delay.
• What happens if you lose your marriage certificate (UK)?
Don't worry – it doesn't affect your marriage at all. It simply means you can't prove it when required, such as name changes or whenever you use documents with a previous name.
For more info on why you need to replace a lost marriage certificate, read about why you need your marriage certificate.
• What to do if I've lost my original marriage certificate?
If you lose your marriage certificate, it's best to replace it as soon as you can. Not sure why? Here are the four top reasons why you need a marriage certificate in the UK. Even if you don't need it urgently, you could need it in future. Simply fill in our application form, select your service level, then let us replace your lost marriage certificate.
• How do I check my UK marriage certificate?
Unless you have a physical copy of your UK marriage certificate, there is no way to check it. Unfortunately, marriage certificates are not available immediately online. The only way to check details is to order a replacement marriage certificate.
• What is a certified copy of a marriage certificate?
A certified copy of a marriage certificate is an official duplicate of the original document. You'll require it in most cases where you need to prove your marriage, including any time you use documents with a previous name.
• Are all marriage certificates certified copies?
Any official replacement of your marriage certificate will be a certified copy. Only the original document is classed as certified. You can't use photocopies of the original or any duplicates. Copy certificates are not seen as official.
• Can you photocopy a UK marriage certificate?
You can photocopy a UK marriage certificate. However, many companies and official bodies require the original to prove your marriage, meaning they won't accept a copy of a birth certificate. Remember that a copy certificate can be useful in certain situations, but for official purposes it's best to order certificates from an expert source.
• How can I prove my marriage without a certificate?
Unfortunately, your wedding ring won't suffice. You can only prove your marriage for most purposes with a certified copy of your marriage certificate.
• What information does a marriage certificate duplicate include?
On a copy of your marriage certificate, you'll find the:
Full name, age and occupation of the groom and bride
Their address when the marriage took place
Location and date of the marriage
The full name and occupation of their fathers
You may also see the full name and occupation of their mothers for marriages since May 2021
A name and signature for two witnesses
The name of both the registrar and official conducting the ceremony.
The type of ceremony
The registration county, district and sub-district
A date of production for the certificates
Marriage Certificates have now been revised in England & Wales and feature the mothers' names.
• How far back can I order a marriage certificate?
For marriages that took place in England and Wales, authorities have registered certificates since 1st July 1837. In Scotland, they registered them from 1855, while Northern Ireland marriage registrations date back to 1864.
• Can I order a new marriage certificate with missing information?
This is dependent on which information is missing and the date that the event happened. For more recent marriages – within the past 50 years – you need a little more information to meet legal requirements. That said, we can fill in some blanks thanks to our access to official records.
• Can I order someone else's marriage certificate?
Based on UK legislation, marriage certificates are a public record for which anyone can request a copy. As such, you can order a duplicate marriage certificate on behalf of someone else or just to prove someone else's marriage, such as a friend, relative, parent or ancestor.
What other services do you offer?
We offer certificates for adoption, birth, death or marriage. We don't currently offer a civil partnership certificate service. For further information visit our home page.